Photo by Craig Roberts
Everyone knows someone who may be a little difficult to shop for, but with aisles of dynamic creations by more than 150 of the nation's finest artisan, Christkindlmarkt makes shopping for handcrafted, quality items as easy as store bought pie. Check out our favorite gifts this holiday season!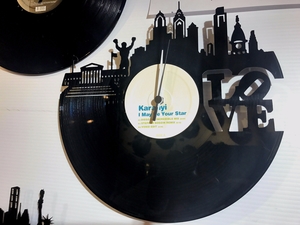 For the Vinyl Enthusiast – Laser Etched Record Clocks
KisKis Fine European Imports
Know someone who loves their album jackets as much as the music on the record? These decorative vinyl clocks are functional works of art perfect for a retro kitchen, man cave or even a college dorm!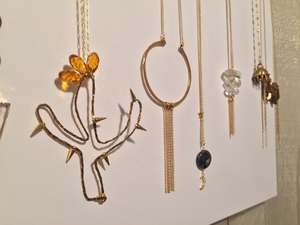 For the Trendsetter – Geode & Cactus Inspired Jewelry
5one7 Designs
With a selection of hammered brass jewelry focusing on bohemian and celestial designs, the handmade creations of 5one7 Designs are the best choice for a fashion innovator looking to sparkle.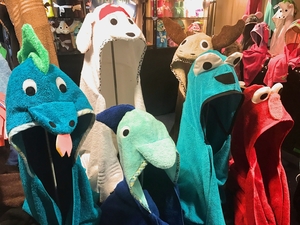 For the Way Cute Kid in Your Life – Character Bath Towels
Way Cute Kids Stuff
 The team behind Way Cute Kids Stuff has been making creative hooded towels for over 12 years. From animals like unicorns and penguins to characters from your favorite movies and TV shows, there's something for everyone to enjoy.
For the Friend that Likes a Good, Strong Drink – Handcrafted Wine and Spirits
Franklin Hill Vineyards & Social Still
Offering both locally grown wines and distilled spirits, Franklin Hill Vineyards and Social Still know their libations. Their best sellers are the White Jack (a dry and lightly oaked white wine), Salute (a blackberry sparkling wine) and Bourbon gift set which comes in your choice of three varieties (Vault, Barista and Vanilla Maple) paired with two rocks glasses.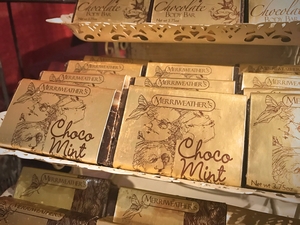 For the Indulgent Bath Lover – Scented Soaps
Merriweather's
These all-natural soaps sourced from Rhinebeck, N.Y. come in an array of scents including favorites like Chai Tea, Chocolate, ChocoMint, Gin & Tonic, Jasmine Lavender, Lemongrass, Margarita, Mojito and more!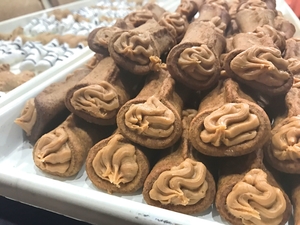 For your Furry Best Friend – Pet Safe Peanut Butter Cannolis
Me & My Dog Pet Bakery
The cute designs of these dog treats might be what catches your eye, but repeat customers rave about the high quality ingredients like real bacon and sausage, bone marrow meat stock, spinach, celery, carrots, banana, brown rice, honey, peanut and yogurt. The peanut butter cannolis look so good, you may be tempted to try one yourself.
For the Crafty Do-It-Yourselfer – A Hot Glass Experience Ornament
ArtsQuest Glass Studio
What do you get the DIY-loving creative type who would rather make something than buy it? A unique hot glass experience! With the guidance of a professional glass studio artist, you'll work one-on-one to create your own glass ornament.  Ages 6 and up are welcome, and no experience necessary.
For the Host Who Has it all – Moist & Boozy Rum Cake
Goodway Gourmet Bakery
While most guests will show up with cheap wine or kitschy decor, you can bet on impressing any host with a lusciously moist cake made with real butter, pure Madagascar vanilla and real dark Bacardi Rum. Rum Cake flavors include Traditional Caribbean, Malibu, Ripe Banana and additional seasonal offerings like Chocolate, Raspberry and more.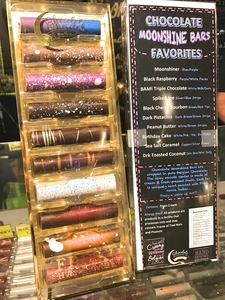 For the Lover of All Things Chocolate – Artsy "Painted" Truffles
Chocolate Moonshine Company
Almost as beautiful to look at as they are delicious, this local chocolatier's famous moonshine bars are crafted from a combination of homemade fudge and imported Belgian chocolate. Their 30 different flavors have the taste of a truffle and the look of something you have never seen before.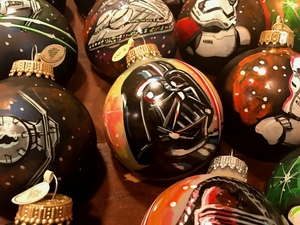 For the Nerdy Super Fan – Pop Culture Inspired Decorations
The Ornament Guy
From Greedo to Grievous, The Ornament Guy has every character imaginable in the Star Wars universe as well as other sci-fi favorites like Doctor Who, Star Trek and Alien. For those who like the dark side, he also has some Halloween horror icons too.  Each ornament is hand-painted by Pennsylvania artist Mike Riehl, who is on site for custom orders.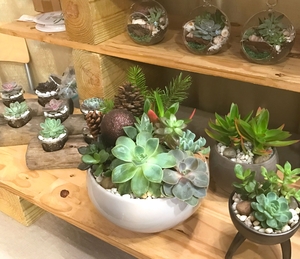 For the Quirky Tree-Hugger – Fancy Succulents
Bucks County Flowers & Things
Perfect for an earthy centerpiece or just some apartment greenery, fresh succulents are pretty to look at and purify the air in your home. Plus they are low maintenance so even someone with only the palest of green thumbs can take care of these tiny plants.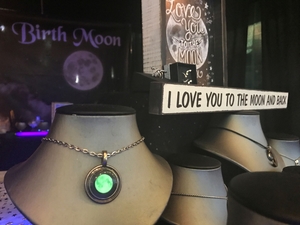 For the Star Struck Astrology Obsessed – Glow-in-the-Dark Birth Moon Jewelry
Your Birth Moon
Were you born under a New Moon? That means you'll always have new beginnings. Waning Gibbous? You are introspective and wise. Celebrate your life or someone close to you with a personalized moon necklace or bracelet. Each lunar charm catches the rays of the sun by day to illuminate in darkness, creating a soft soulful glow that will surely be a conversation starter.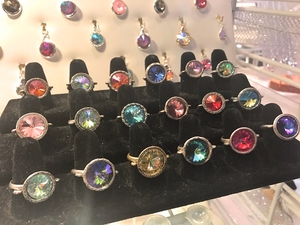 For the Friend in Need of Serious Bling – Rainbow Colored Swarovski Crystal Rings
Crystal Creations
It's easy to be the snazziest and flashiest person in the room with an ornate crystal ring. Made with Swarovski Crystals, these rings sparkle and dazzle as they catch light in every direction.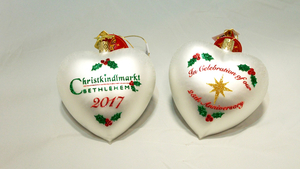 For the Die-Hard Christmas Devotee – 25th Anniversary Christkindlmarkt Ornament
Käthe Wohlfahrt & ArtsQuest
Celebrate the Silver Anniversary of Christkindlmarkt with  a limited-edition glass ornament made by renowned the German crafters of Käthe Wohlfahrt. Established in 1993 by ArtsQuest, Christkindlmarkt Bethlehem is a one-of-a-kind family event that brings the spirit of Bethlehem alive with the season. Twice named one of the best holiday markets in the U.S. by Travel + Leisure, the event showcases a diverse array of artisans and vendors, attracting visitors from near and far with its combination of old-world charm and its unique shopping experience.