Produced in partnership with Jay Nee of Juniper and Grain, we have an excellent selection of wines from the California coast to pair with delectable food from our partners at Levy Restaurants.
Menu
First Course:
Mango, Avocado and Charred Poblano Ceviche on Frisee (Fish Selection TBD)
Paired with: Field Recordings – Chenin Blanc (Paso Robles, Central Coast)
Second Course:
Salmon Sashimi, Wasabi, Pickled Ginger and Soy
Paired with: Wonderwall – Pinot Noir (Edna Valley, Santa Barbara County)
Third Course:
Beet Braised Beef, Shiitake Farro Risotto, Caramelized Heirloom Carrots
Paired with: Fableist – Cabernet Sauvignon (Paso Robles, Central Coast)
Dessert:
Flourless Dark Chocolate Torte, Blackberry Whipped Cream, Orange Zest
Paired with: Il Cuore – Zinfandel (North Coast, Mendocino County)
JAY NEE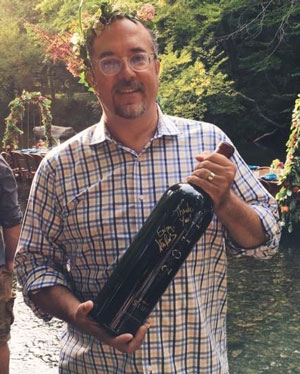 Jay Nee brings more than twenty years of beverage hospitality experience to the table. Since moving to the Lehigh Valley from New England 15 years ago, he has worked in the beverage hospitality industry in a number of roles. He helped develop one of the most interesting wine programs in the area and launched a recurring wine education night that has entertained hundreds of guests. He has gone on to present more than 400 wine, beer and spirits events for thousands of guests.