Date/Time
Date(s) - Oct 16th 2021
7:30 pm
Location
Fowler Blast Furnace Room
Categories
Laugh along as real life contestants navigate a larger than life game of Tic-Tac-Toe
Host and Trivia master Steven Bost quizzes a cast of colorful, comedic characters.
Contestants must decide whether the answers are true or false to claim their squares and win the game!
Daniel Moyer (Artist, Director, Producer, Performer)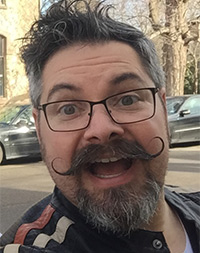 A staple of the Lehigh Valley Improv Comedy scene for over seven years, Daniel is a proud member of Staycation (A Trip To Here) and has performed with notable groups The Fourtets and The Flumplenarfs, and many other shows. As an offstage wizard, Daniel creates bizarre costumes, props, and scenic elements for a variety of shows and film projects, locally and in New York. His multifaceted background of design, sewing, sculpting, mold making/casting, often lead him to a wonderful assortment of projects that defy category. Stage, TV, film, private collections… your wish is his command!