Date/Time
Date(s) - Mar 30th 2023
6:30 pm
Location
Fowler Blast Furnace Room
Categories
Produced in partnership with Jay Nee of Juniper and Grain, we have an excellent selection of wines from France to pair with delectable food from our partners at Levy Restaurants.
This is a 21+ Event
Menu:
1st Course
Lionel Gosseaume Sauvignon Blanc
Warm Goat Cheese Salad
Roasted Pears, Candied Walnuts, Arugula, Frisee, Citrus Vinaigrette
2nd Course
Claire Chante Beaujolais Village
Coq Au Vin
Garlic Butter seared Chicken Thighs, Sautéed Champignon, Stewed Carrot, Crispy Lardons
3rd Course – Entrée
Felicette Astrocat
Braised Pork Shank
Roasted Broccolini, Couscous Quinoa Blend, Rosemary Demi Glace
4th Course – Dessert
Domaine Collin Crement di Limoux Brut
Pannacotta
Blackberry Compote, Mint, Chantilly Cream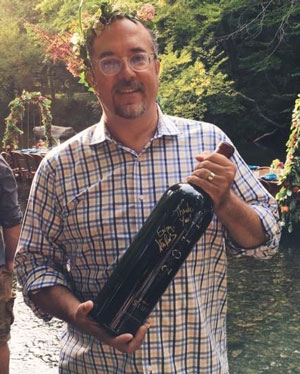 Jay Nee brings more than twenty years of beverage hospitality experience to the table. Since moving to the Lehigh Valley from New England 15 years ago, he has worked in the beverage hospitality industry in a number of roles. He helped develop one of the most interesting wine programs in the area and launched a recurring wine education night that entertained hundred of guests. He has gone on to present over 400 wine, beer and spirits events for thousands of guests and is currently working with ArtsQuest on producing The Ginvitational at the ArtsQuest Center in September.