Map Unavailable
Date/Time
Date(s) - Jun 3rd 2023
9:15 pm
Location
Visitor Center presented by St. Luke's University Health Network
Categories
Doors/Pre show mingling hour: 8:15 p.m. | Show: 9:15 p.m.
Thanks to commercial DNA tests, family secrets are flying out of closets all of the U.S.A.: hidden identities, illicit affairs, secret sperm and egg donations, unrevealed adoptions … What does access to this wellspring of information mean for who we are?
Join Lehigh Valley's most eclectic comedy talent in this variety show with trivia for anyone who's ever looked at their family and thought: How did I get here?
This show will contain adult language and/or situations. Seating will be assigned by ArtsQuest staff upon arrival into the showroom. Anyone coming in between the ages of 13 and 17 must be accompanied by a parent or guardian. No child 12 or under will be admitted. All performers and staff must adhere to our codes of conduct found here.
*Ages 25 and under & senior discounts apply at the box office only.
Hosted by Lauren LoGiudice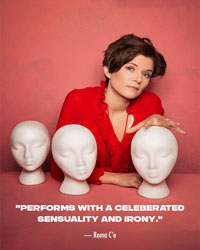 Lauren LoGiudice is an accomplished comedian, actor, and author of Amazon Kindle Best Seller Inside Melania: What I Know About Melania Trump by Impersonating Her. Her work has been featured by The New York Times, BBC, Bust Magazine, McSweeney's Internet Tendency, Hyperallergic, among others. Her writing has been called "criminal." Her TV and film credits include Veep, Brave the Dark and Galaxy360. Moth StorySLAM Champ. In addition to her comedy album, Misfits: A Comedy Album you can also hear Melania Trump's Rockin' Right-Wing Christmas Album, available on all major streaming platforms.
CASTING CALL: Storytellers, Comedians, Guest Experts
Looking for people who have dealt with adoption, sperm or egg donation, daddy or mommy issues, finding missing relatives, being raised by people other than your biological parents, not parent expected (NPE) experience, or feeling like the black sheep in your family.
We're booking Ancestry Dot Comedy: The Misfit Variety Show at ArtsQuest spring 2023.
If any of the below fits you, then drop us a line!
I. Guest storyteller. Beginners welcome! Submit in one of two ways: send a brief description of the story you want to tell or a link to a video of you telling your story. Submit here: https://forms.gle/g5kQnRzuzsjmkhEG8
II. Performers. standup comedians, character comedians, musical comedy, PowerPoint comedy, funny poets, variety performers of all stripes – including clown. Submit here: https://forms.gle/g5kQnRzuzsjmkhEG8
III. Guest expert or media creator. Do you teach, do research, make videos, podcast, or write books about any of the above topics? We include guest experts and media creators in different segments of show. Join us! Submit here: https://forms.gle/g5kQnRzuzsjmkhEG8
Any questions? Press requests? Email Lauren at inthemidstprod@gmail.com.