Date/Time
Date(s) - Dec 26th 2019
7:30 pm
Location
Fowler Blast Furnace Room
Categories
Doors: 7 p.m. | Show: 7:30 p.m.
Born and bred in the Lehigh Valley, these comedians have gone on to make a name for themselves in New York and Los Angeles. But they're home for the holidays and ready to make you laugh!
Ellen Doyle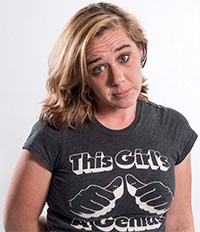 Ellen Doyle is probably an old friend of yours and is currently telling stories about you to audiences across the country. Catch her live to see if you've impacted her life by simply talking to her or even being in her line of sight.
She is the recipient of the Abington Heights High School "Class Clown" award in 2002 and told her kindergarden teacher she wanted to be a "comedienne when she grows up". Both of those realities mean Ellen doesn't really like working and might lack several educational skills… but she's really nice!
Doogie Horner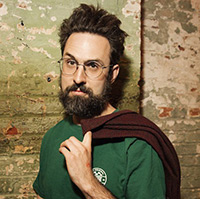 Doogie Horner is a comedian, writer, and artist. He is the author of Some Very Interesting Cats Perhaps You Weren't Aware Of (Workman Publishing Company,) 100 Ghosts (Quirk Books, 2013) and Everything Explained Through Flowcharts (HarperCollins, 2010).
His art and writing have appeared in Wired, McSweeney's, Fast Company, Boing Boing, the Believer, the London Times, the Sun, and other publications. His comedy achieved national attention when a video of him taming a hostile crowd on America's Got Talent became a viral sensation. He has designed numerous book covers, including Pride and Prejudice and Zombies and Miss Peregrine's Home for Peculiar Children.
Julianne Simitz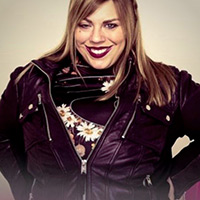 Julianne Simitz is a Hollywood-based stand up comedian, writer, and producer. In 2018, she became a staff writer on ABC's Emmy-nominated Jimmy Kimmel Live!. Julianne has also written for CBS Diversity Showcase and was a finalist for NBC's Late Night Writers Workshop.
Today, Julianne writes and produces The Night Cap, a sketch-driven late night show in Hollywood. She is the co-creator of political comedy talk show Bad News, a stage show that is currently in development for television. Creator of the nationwide women's comedy writers collective, The Clitorati, Julianne performs stand up in festivals, comedy clubs, and shitty dive bars from sea to shining sea.
You can catch her at The Ruby in Hollywood each month hosting Second Class Citizens, her political stand up comedy show for the "othered half." In her past life, Julianne worked in the swamps of Washington, D.C. as a Soros-funded pinko commie activist.
Jim Tews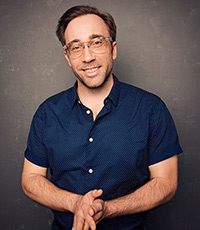 Jim Tews is the creator of the New York Times Bestseller "Felines of New York." He made his stand-up television debut on Last Comic Standing. He's been seen on FX, NBC, SeeSo, and TBS. Previously he was one of 2011's New Faces at Just For Laughs Montreal and has performed in the Bridgetown Comedy Festival, Eugene Mirman Comedy Festival, as well as SF Sketchfest. His recent comedy album "I Was In Band" debuted at #3 on the iTunes comedy charts. He performs regularly in New York at the Comedy Cellar, UCB, and any basements or backrooms that will allow it.
Jim also created, co-wrote, and starred in The Undone Sweaters web series about a sociophobic Weezer cover band, which was featured on Funny or Die and Nerdist.com. Before that, Jim created the HBO Labs' web series The Opener and directed a feature length documentary about Cleveland's independent comedy scene called "Make Fun."
Jonathan van Halem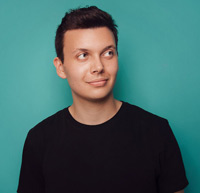 Jonathan van Halem is a stand-up comedian living in New York City. He can be seen performing at venues including UCB, The Bell House, Caveat, and a bunch of comedy clubs and colleges across the east coast.
He's opened for comedians including BJ Novak, Kevin Nealon, Aparna Nancherla, Beth Stelling, and more.
He has a monthly show at the Upright Citizen's Brigade Theater called the Indie Sketch Showcase, with his sketch group, Kiss on the Lips.
This show will contain adult language and/or situations. Seating will be assigned by ArtsQuest staff upon arrival into the showroom. Anyone coming in between the ages of 13 and 17 must be accompanied by a parent or guardian. No child 12 or under will be admitted.
*Student & senior discounts apply at the box office only