Date/Time
Date(s) - Sep 25th 2022
11:00 am - 4:00 pm
Location
Musikfest Cafe presented by Yuengling
Categories
11 a.m.-12 p.m.: VIP 'Your-Fashioned' Seminar
12-1 p.m.: VIP early access hour
1-4 p.m.: General Admission
The Ginvitational, a celebration of cocktail culture, will kick off at 11 a.m. with a VIP-only seminar in the Red Cinema. Juniper and Grain is partnering with Edrington to present their "Your Fashioned" program, where attendees will learn new riffs on the legendary Old Fashioned cocktail. Attendees will also be able to taste base spirits for these Old Fashioned variations.
VIP benefits include:
Exclusive access to the "Your Fashioned" seminar
Exclusive access to the Ginvitational at the Musikfest Café starting at 12 p.m. and ending at 1 p.m.
Free appetizers provided by our partners at Levy Restaurants
Exclusive access to the Ginvitational Lounge on the Musikfest Café balcony
VIP-only spirits in the 12 p.m. hour from many of the event's distillers and distributors
Up to 16 samples of the spirits and cocktails being offered by our vendors
General Admission guests of this gin-forward (not gin-exclusive) event will be introduced to spirits from a long list of local, national and international distillers including Edrington and Bombay Gin, along with local favorites Eight Oaks Distillery and Mishka Vodka from 1–4 p.m. in the Musikfest Café at SteelStacks. General Admission guests will get up to 12 samples of the spirits and cocktails being offered by our vendors.
Food will be available for purchase from 1-4 p.m. from our partners at Levy Restaurants. A $15 designated driver ticket is also available for purchase; the ticket holder will get general admission access to the event and access to the seminars happening throughout the afternoon.
Seminars:
"Your Fashioned" from Edrington*
Getting Fizzy with It: Cocktail history focusing on Fizzes and Flips*
Stirred, Not Shaken: Cocktail history focusing on the Martini & Negroni*
Syrups and Upping Your Home Cocktail Game
Tiki Culture: The post WW2 cultural phenom and the complexity of these cocktails
Pull no Punches: How to build the perfect punch for entertaining
Why Booze is Good For You: The 'medicinal' use of alcohol
Aromatics: Focus on aromatics and their use in liqueurs and cocktails
Gin Styles: different styles of gin and the 'new school' of interesting aromatic
*denotes VIP-only seminars
Join Jay Nee of Juniper and Grain as he presents spirits from local, national and international distillers, along with demos and quick seminars from some of our area's best mixologists.
This is a 21+ Event
Edrington – No. #3 London Dry Gin (and other spirit varieties)
Lucky Sign Spirits
Gallows Hill Spirits Co.
Eight Oaks Farm Distillery
Social Still Distillery
Philadelphia Distilling
Big Spring Spirits
County Seat Spirits LLC
St. George Spirits
This Life Forever (Mishka Vodka)
Five Saints Distilling and International Spirits LLC
Revivalist Spirits
Breakthru Bev (Ford's Gin & other spirit varieties)
Catskill Provisions Inc.
More vendors to be announced.
Jay Nee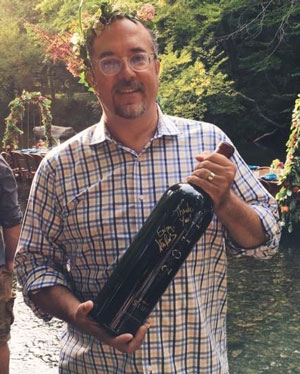 Jay Nee brings more than twenty years of beverage hospitality experience to the table. Since moving to the Lehigh Valley from New England 15 years ago, he has worked in the beverage hospitality industry in a number of roles. He helped develop one of the most interesting wine programs in the area and launched a recurring wine education night that has entertained hundreds of guests. He has gone on to present more than 400 wine, beer and spirits events for thousands of guests.