Date/Time
Date(s) - Sep 11th 2020
8:00 pm
Location
PNC Plaza at SteelStacks
Categories
Welcome to the outdoor pop-up comedy theater you never knew you wanted!
Thanks to the pandemic, we're temporarily bringing comedy shows into the great outdoors. You're welcome.
Doors: 7:15 p.m. | Show: 8 p.m.
Jim Tews is an Allentown-raised comedian, writer, animator, and director who's been seen on NBC and FX, seen in the New York Times, heard on satellite radio, written a Times bestseller, and even animated a music video for Weezer.
He performs regularly all over New York City, tours nationally, and sometimes even internationally. He's a veteran of the U.S. Coast Guard (America's most sensitive service) and went to film school for some reason. He plays three instruments poorly, but cannot juggle. He lives in Ridgewood, Queens with his partner, two cats, and a dog with an underbite.
Only groups in the same party will be seated together, with appropriate social distancing from other groups at the event. There will be limited dining options available, with mobile bar add-ons for purchase as well. For the safety of all patrons and staff, mask wearing, social distancing and all CDC, state and city health and safety rules and regulations will apply at all Comedy at the PNC Plaza performances.
*Student & senior discounts apply at the box office only
Feature: Ellen Doyle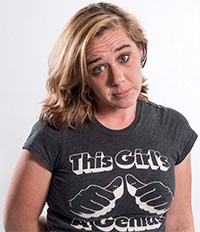 The recipient of the Abington Heights High School Class Clown Award '02 and Bachelor's of Arts Degree in Dance and Choreography from a women's college (can ya believe it), Ellen Doyle's comedy ride is one not to miss.
Her humor is autobiographical and told with the lovable bitterness of an east coaster. With topics ranging from her family to being jealous about the wrong things as a child she tells jokes with a take no prisoners approach. Sarcastic, dark, unapologetic, yet insanely charming, Ellen says what she thinks although most of those thoughts should probably be kept to herself.
She has toured all over the country and has been featured at clubs, festivals, bars, coffee shops, living rooms, and public bathrooms across America's heartland. Ellen has a dog named Ghost. Ghost was featured on Animal Planet's "Rescue Dog to Super Dog".