An Improv Show for My Mom
My mom's coming from Wisconsin to visit Bethlehem for Thanksgiving. And because she hasn't seen any improv comedy since around 2017, some of my friends & I are puttin' on a show just for her! But don't worry, you and your loved ones are invited too!!
Come laugh off your Thanksgiving hangover with some of your favorite local comedian improvisers and my mom.
Oh, and she doesn't know about this show. It's a secret surprise. Shhh!
The performer proceeds for this show will be donated to the Bradbury-Sullivan LGBT Community Center.
IMPROVISERS:
Jennifer Carlson
Christy Devlin
Cindy Marsh
Danielle Tampier
and Studium Joy
 ABOUT ME: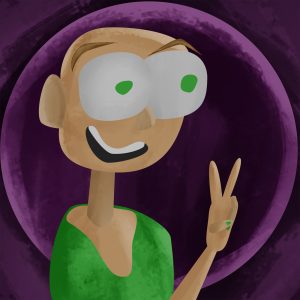 Hi! I'm Studium Joy (they/them), but you can call me Joy. I'm a non-binary autistic artist. From 2009-2018, I directed, produced, and/or performed in hundreds of comedy shows in exotic locales like San Francisco, New York City, and Bethlehem, PA. Past shows include The Flighty Ducks, Comedy Game Show, Flip's Laugh Off, Knife Training Sales Demo, The Last Will & Testament of Santa J. Clause, Sammich Smackdown Raw, The Bar Brawl, The Associated Mess, The Improv Comedy Power Hour, #Bestof, Miss Piggy, 34 Years of Star Wars, Fwend Fight, SteelStacks Comedy Triathlon, Challengers of the Well-Known, ProblemSMASH, Corporate Undies, Happy Yellow Flowers, and ManDudeBro.
You can follow my video & animated art on Instagram and Youtube @StudiumJoy.
This show will contain adult language and/or situations. Seating will be assigned by ArtsQuest staff upon arrival into the showroom. Anyone coming in between the ages of 13 and 17 must be accompanied by a parent or guardian. No child 12 or under will be admitted. All performers and staff must adhere to our codes of conduct found here.
*Ages 25 and under & senior discounts apply at the box office only.