Photo by Craig Roberts
Christkindlmarkt presented by Univest Bank & Trust Co. is a one-of-a-kind family event that brings the spirit of Bethlehem alive with the season! Not only was it twice recognized as one of the best holiday markets in the U.S. by Travel + Leisure, but Christkindlmarkt is currently in 4th place in a poll of the country's best Christmas markets as voted on by USA Today readers. (You can VOTE HERE.)
If those accolades weren't enough to convince you to visit, these seven reasons will get you racing your sleigh to the ultimate holiday market: Christkindlmarkt presented by Univest Bank & Trust, Co.
1. Shop for Thoughtful & Unique Gifts
You can't find these presents online or in the big box stores. Shop 150+ of the nation's finest artisans for thoughtful, unique and quality gifts you won't see anywhere else. Not only will you get something great, you'll support small businesses with your purchases and support the nonprofit ArtsQuest with your admission ticket. Everyone wins!
---
2. Drink "Holiday Spirits" While You Shop
Holidays got you stressed? You can walk around with a glass of "holiday cheer" while you shop at Christkindlmarkt.
NEW in 2018: Holiday Spirits & Wine Tasting sessions! Receive an instructional presentation of the drinks offered and two specialty samples. Partners include Franklin Hill, Social Still, Eight Oaks, Vynecrest and Colony Meadery. CLICK HERE for tickets.
---
3. Snap Instagram-Worthy Photos
Up your Insta game with more photo ops than you can count. We have a giant gift box to stand in. The iconic Bethlehem Steel blast furnaces (potentially covered in snow). Some light-up reindeer. And, of course, pictures with St. Nicholas sponsored by Just Born Quality Confections.
---
4. Take a Glass Blowing Workshop
The hottest (literal) activity at Christkindlmarkt is the ArtsQuest Glass Studio's Hot Glass Experience! With the guidance of one of our artists, you'll work one-on-one to create your own glass ornament or candy cane. Give it as a gift or keep it for your own decor! Each session takes 20 minutes. Ages 6 and up are welcome. Space is limited, so CLICK HERE to register ASAP.
---
5. Buy it and ship it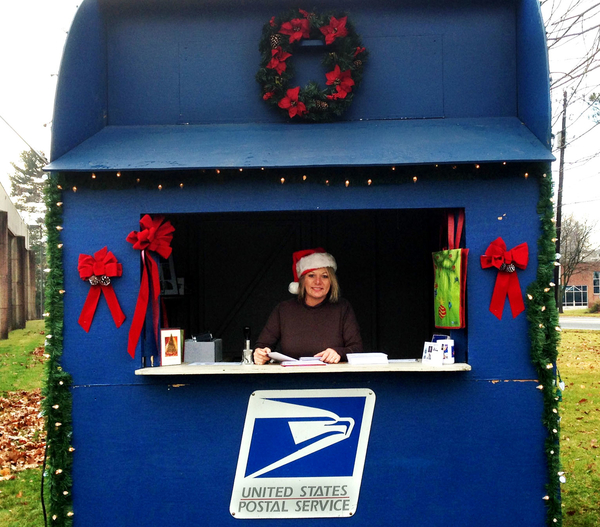 Getting a gift for someone far away? You don't have to even leave the premises to send it on its merry way. Visit the U.S. Postal Service's "Big Blue Box" for on-site shipping and to get the official Christmas City postmark!
---
6. Chow Down on Holiday Treats
The winter holidays have the best food. What's even better? Not having to make it yourself. We have tasty treats such as strudel, kettle corn, bratwurst & more!
You can also break bread with the big man himself! Join us for Breakfast with St. Nicholas presented by GIANT Food Stores on Dec. 1, 8 & 15!
---
7. Festive Entertainment
If you listen to non-stop Christmas music on the radio, you'll love the live music on our stage! Plus, you can enjoy daily ice carving demonstrations (something you can't see the other 3 seasons of the year).